---
Enoch Magala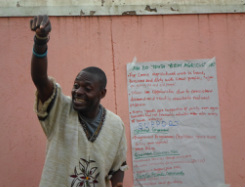 Meet Enoch Magala, Program Director of CFYDDI. Enoch Magala is a sexual and reproductive health/rights educational expert with a special interest in advocacy for economic and youth rights and policy. He brings on board over 8 years work experience from Echoes Youth Commission for the World Council of Churches 2006-20013, Restless Development and Global Youth Coalition on HIV/AIDs (GYCA) where he is the National Focal Point leader for Uganda responsible for building a cohesive national network within Uganda that will collectively form the regional network through existing GYCA membership on youth and HIV/AIDS issues. He is a member of the International AIDS Society (IAS) and has been to UK on the Stop AIDS speaker tour as well as participating through the AIDS 2008 Mexico city, AIDS 2010 Vienna, AIDS 2012 Washington DC USA as well as the AIDS 2014 in Melbourne International AIDS conferences respectively to speak and perform at the Global Village. Enoch has been asked and invited to contribute to various National and International HIV/AIDS events and policies. He was nominated as a "Giraffe Hero" and was later given a 2011 Giraffe Hero Commendation award, which is given to people who stick their neck out for the common good.

Enoch has participated in the National Youth Consultation on the National Development, he has served as a member of Makerere University Regional Young People's Advisory group (YAG) in the development and implementation of Young Empowered and Health (Y.E.A.H) campaign partnership and is a Trainer of Trainers in the "Be a Man" campaign. He has conducted research with Straight Talk Uganda, projects on 'Impact assessment of straight talk multi-media campaign in Uganda' an adolescent awareness newspaper and participated in the HIV/AIDS Sero-Behavioural survey for Inter Universities council for East Africa (IUCEA), in collaboration with AMREF, the AIDS Control Program of the Ministry of Health and the Uganda AIDS-Commission, assessing; the burden of HIV among University students, the associated factors, and vulnerability to HIV infection and to assessing available policies and strategies to prevent the spread of HIV and provide care and treatment to those that are affected with HIV.

He championed the screening of "Love in Time of HIV" A documentary which facilitated discussions in rural communities. Enoch has served and continues to serve as the focal medical student's elective coordinator since 2011. He pioneered the Rapid Testing Program (RTP) from 2008- 2012 a program facilitated by AIDS Health Foundation (AHF) Uganda Cares scooping two Awards for quality Performance for 2008 and 2009 respectively from AHF.

Enoch has served as a reviewer of program activity proposals for AIDS 2010 Vienna, Austria, Vienna Youth Force as well as being a member of the AIDS 2012: Faith-based Organizing Global Reference Group (GRG) for AIDS 2012 International AIDS Conference in Washington D.C.

Enoch has graduated with a honors Degree in Commerce (Finance) from Makerere University, Kampala, Uganda and he has completed a short thematic seminar from Ecumenical Institute-Chateau de Bossey, in Geneva under the Theme: "Youth, Spirituality and Identity" organized by the World Council of Churches attached to the University of Geneva. Enoch was a lead consultant Convener for the UNAIDS 2011 CrowdOutAIDs Consultative Project and He was the first elected Alumni President for Restless Development – Uganda and he is the founder For Centre For Youth Driven Developments Initiatives (CFYDDI)

---
Dr. David Lawrence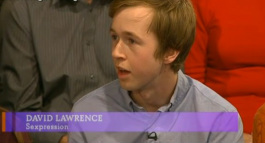 David is a medical doctor from the UK with a keen interest in the health of young people, particularly their sexual and reproductive health and rights. David has been a volunteer with the International Planned Parenthood Federation (IPPF) for a number of years. Most recently, David has worked closely with IPPF on efforts related to the commission on Population and Development and numerous consultations on the future of the Millennium Development Goals. Mr. Lawrence is a member of the steering committee for the 11th International Dialogue and has been particularly involved with the programmer for young delegates. David first came to Uganda in 2010 after meeting with Enoch Magala at the XV111 International AIDS Conference in Vienna, Austria. He fell in love with the great work being done at the grass root level in Uganda and offered some ideas on how to improve the organization with some new innovative projects.

David coordinated the Medical Electives Program which brings student doctors from around the world to CFYDDI and ensures our ability to thrive throughout the year. After completing a research project with Enoch, he designed a curriculum for a youth-led sexual education program called SHARE which trains young people to deliver a comprehensive curriculum to in and out–of-school young people, ensuring they are able to achieve their sexual and reproductive health standards and rights.

David continues to return to Uganda to work closer on improving young people's access to health services and he is CFYDDI's program manager in charge of community health empowerment.

---
PROSSY BABIRYE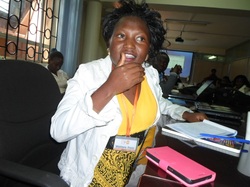 Prossy is the advocacy Director for CFYDDI as well as the Behavior Change and communications manager for the center. Graduating from university, she has attained a master in Business Administration with specialization in Human resource managements from Indira Ghandi National Open University (IGNOU) India, with postgraduate diplomas in Human Resource/management from the same university with honors degree in Arts (organizational studies) from Makerere University Kampala.

For the last 5 years, Prossy is fully-fledged and well-seasoned gender, HIV activist and advocate for issues relating to Maternal and Newborn Health in Uganda and she has innumerable skills to offer to include a holistic child development reform that supports children better. As a result, she has initiated the development of children, youth and women strategic direction for the center.


She has made a remarkable contribution in guiding the young people's role in the effective and successful implementation of the Sustainable Development Goals, the UNG SG's Global Strategy for Women's Children's and Adolescents Health Programme of Action in Uganda as well as intensify efforts and build consensus to intensively increase investment in adolescent health and development for the success of the sustainable development goals and the UN Secretary General's Global Strategy on Women's Children's and Adolescents' Health.

Being a true advocate for action and a member of the African Youth Leadership Forum Uganda an initiative pioneered by young people from University campuses around East Africa and those who have just graduated from University but have been in leadership while at campus, she has always reminded the youth that "All true leadership begins with Self Leadership" and she call's on everyone to be modeled into servant leaders whose role is to serve and change communities.

Prossy has been a lead convener for the ACT 2015 Community Dialogue in Uganda a collaboration between the PACT, UNAIDS and the UNAIDS Youth Advisory Forum ACT! 2015 One goal, many voices for a post-2015 development agenda that advances sexual and reproductive health and rights (SRHR) and the HIV response for young people. These valuable ideas that come out of the community dialogue translated into social action that truly influenced the post 2015 development agenda.

Concerning her previous engagements, she has worked with Compassion International, served as a Health Service support staff at Cornerstone Leadership Academy; and has played a leading consultative role in formulating the Youth National Developed five-year strategic plan.

---
Alex Kalume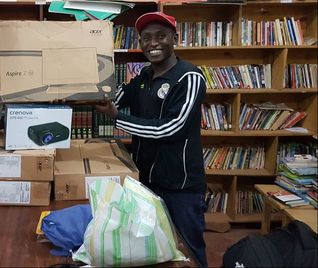 Alex kalume holds a bachelor's degree in human resource management obtained from Makerere University business school. He has a burning passion for youth and children wellbeing and development.

Alex has had a wide volunteer experience with various youth led organization in relation to young empowerment and development largely dealing with areas of sexual reproductive health, livelihood and leadership and life skills and decision making. He brings a new perspective to CFYDDI and energy of strategic youth initiatives that will transform grassroots communities. Alex is also a trained SHARE Trainer of Trainers and has done advocacy on youth related issues reaching out to in and out of school youth.
---
Akampa Victor Emmanuel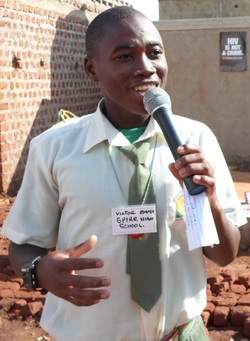 Akampa is 17 years of age and he is high school student who joined CFYDDI in 2014 as a participant in the health reading and computer training camp that brought together 20 participants from 5 different schools through his participation he rose to the ranks of being CFYDDI's coordination and mobilization head and the first elected president of the first graduated ambassadors of the CFYDDI Youth Leadership Team and the chair person of SHARE Club. He has represented young people on a health panel discussion on Adolescent's health rights and priorities during the 7th Pediatrics' Conference and Akampa has testified that being part of CFYDDI has been the most important opportunity that has happened to his early life of development: he attests that he has received the privilege to believe in himself and offer leadership and mobilisation for joint action beyond tomorrow an opportunity which is not always popular with youth.


---
Joanitah Nabayunga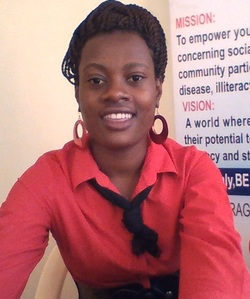 Joanitah is CFYDDI Enterprise Service Manager designed to help young people and women realize their full potential through starting and growing their own businesses as Small businesses are enormously important—they serve as an engine of economic growth and as they grow, provide jobs to those in need. This course introduces learners to the basic ideas, actions and skills needed to successfully launch, lead and grow a micro or small business. And Joan doubles as a computer Training Tutor at CFYDDI while offering her time on the SHARE schools and community empowerment outreach program to save lives of the community from catching preventable illnesses.

Joanitah holds a diploma in Business Administration specializing in Banking, Finance, and Insurance with training in Computer Studies which skills have benefited the community through the computer training class.



---
Eric Mbagajiire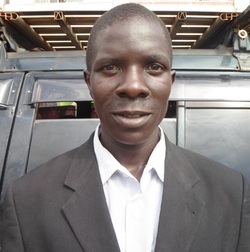 Erick Mbagajiire is CFYDDI Field Programs coordinator Buvuma District. Prior to joining our community development engagements, Eric has been volunteering as a teacher for various private primary village schools.

Following our feasibility study to expand our program outreach, we realize that Buvuma is the right choice to serve as it's an island district surrounded by lake Victoria with 53 islands and typically a rural district that has very unique challenges these range from transport difficulty (only water transport and road only on main island), poor education services, poverty, unemployment, illiteracy and HIV/AIDs prevelevency (14.8%) being high.

CFYDDI through its field office is providing lasting solutions for at-risk needy people around Buvuma District through education, health awareness and training which helps transform communities so they can become self-sufficient.

People suffering from poverty and diseases need social, community educational programs, and our programs contribute to improving the social, economic and physical resources available to and controlled by a community.


---
Tibesigwa Irene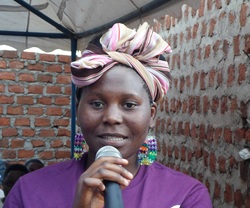 Irene is our Library Assistant and Literacy Club Leader and, as such, an essential member of our team here at CFYDDI. Her journey with us began in 2014 when she joined our team as a volunteer. For Irene, it was important to engage in the youth programs as the youth need to take on leadership. She feels well placed to serve youth better. Currently, Irene is our current Literacy Club Leader and is also an advocate and trained peer educator of our SHARE program. After seeing the need for children to learn how to read in English, Irene accepted the responsibility to mentor the children our Lit Club that the library hosts every Saturday. Through the Lit Club, she focuses her efforts on teaching children in the community writing and reading skills in both Luganda and English and translating to help them understand. Irene is also a crucial proponent of our outreach work, which aims to share knowledge about hygiene and sanitation in our community. Having a natural aptitude for teaching, Irene also acts as the language teacher for our medical electives and other volunteers with the local language, Luganda. She also works as a marketer with our Women with a Purpose (WWAP) Program, which mobilizes community housewives in entrepreneurial project that works to improve on their household incomes. Alongside her tireless work for the Centre, Irene is studying at the Makerere University Business School for her Diploma in Business Computing.


---
Dylan Patterson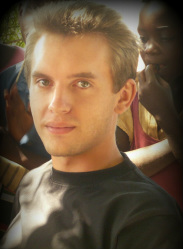 Meet CFYDDI's American coordinator. Dylan has a strong background in ICT and has been fundamental in constructing our website, as well as creating a computer training manual and conducting training courses with local youth. He is currently working for Apple, Inc. in the U.S. while pursuing his degree.

Dylan has been involved with our organization since its creation and even before it came to fruition. He has spent a total of seven months living in Uganda. He has been involved in HCT work (HIV Testing and Counselling) with various organizations including; Mpolyabigere RC-RICED Foundation, CARA Uganda and has worked alongside Enoch in giving the youth of Uganda a voice and an outlet for change. He has attended various conferences and events organized for the NGO-CSO-CBO community and represents CFYDDI in his capacity. He tutors young children at the library and, being an active man, engages in regular football (soccer) matches and outdoor activities with the youth in our communities. He has three years coaching experience in various sports, he also boasts six months experience working as a lab technician with Mpolyabigere RC-RICED Foundation and CARA Uganda. Dylan was also nominated as a "Giraffe Hero" and was later given a 2011 Giraffe Hero Commendation award, which is given to people who stick their neck out for the common good.

His testament to others considering to volunteer with CFYDDI and in Uganda in general is this, "I have learned more about myself and my strengths and weaknesses in the last few years working in Uganda than I ever thought possible. Anyone looking to make a direct impact in a community in need and come away with a true life experience, consider volunteering."
---
About: STAFF
CFYDDI boosts their work force with part-time staff who are specialists in particular fields and have practical experience gained from a variety of development and business organizations. They are involved in both training and consultancy activities to ensure that they maintain a close link with day-to-day practices in the field, keeping at the forefront of emerging development ideas as well as creating good and sincere professional relations with beneficiaries and clients in the field of;
Entrepreneurship skills
Counseling/ HIV testing
Health talks, career guidance
Life skills training

---